Services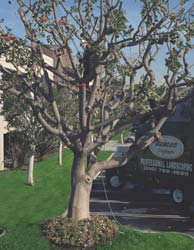 Rancho California Landscaping, Inc., is a quality-oriented, full-service provider for all your landscape needs. Our services include:
Rancho California staff is dedicated and committed to high quality standards and superior customer service delivered through a combination of:
Weekly on-site supervision
Monthly "walk-throughs"
Monthly field reports
English speaking foremen
Uniformed personnel
Clean and clearly marked vehicles
Swift communication using cell phones and e-mail
Online service request and quality survey forms through our website
Computerized logging and tracking of service requests
For more information about our programs and services, please contact us to schedule a free "walk through" of your property so we can discuss your landscape needs. Let us demonstrate how you and Rancho California Landscaping, Inc. can become partners in caring for your landscaping with first-rate quality and service.